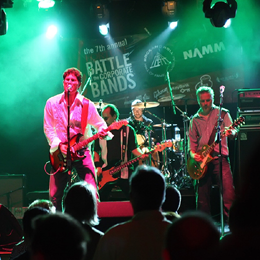 The 4" Studs are:
David Delasantos - Vocals/Guitar
Bruce Clement - Guitar/Vocals
Joe Selby - Bass/Vocals
Rick Nelson - Drums

We specialize in classic rock from the 70's, 80's and 90's and have participated in Fortune Magazine's Battle of the Corporate Bands three times, winning the Western Regional competition each time, competing in the finals at the Rock & Roll Hall of Fame in Cleveland twice, and coming away a winner in 2008. That same year, guitarist Bruce Clement was named Best Guitarist.

We are what most people would consider a classic party band with an extensive song list, loads of energy and the talent to turn a good night out into a great night out.
Previous events
The Sleepy Hollow Homes Association is hosting their annual end of summer party with their favorite band!
(PDT, UTC-07) (PDT, UTC-07)
4 Inch Studs will bring the classic rock to the beer garden in Petaluma. We'll be celebrating Rix 55th birthday, so bring your party hats.